Though my practice is based in Westchester County New York, I am happy to offer additional options to families that I can't meet in person.
Long Distance Picky Eating or Feeding Consultation
When a child is a picky or problem eater, it can cause a lot of stress within a family, and can lead to tantrums at the dinner table, conflicts with relatives who don't understand the situation, and tons of anxiety for parents who don't know what to do to make things better. That's why it's important to get the support and guidance of a qualified feeding specialist-even if you can't find someone local.
Over the years, I've worked with countless families to turn chaotic mealtimes into normal, stress-free parts of the daily routine. And during our phone consultation I will happily share the advice, tips, and techniques that have been helpful to so many others. (We can also do this via Zoom!)
We'll start with an in-depth conversation about the difficulties your child is having, and I will answer any questions you have about feeding/eating. Next, I'll be able to recommend steps you can take at home and maybe a few resources you'll find useful so that you can get your child started on the path to healthy and happy eating.
Long Distance Speech-Language Consultation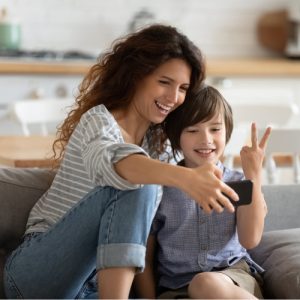 Realizing your child is struggling to communicate can be overwhelming. Even when you know your child needs help, you may not know where to start. As you start to research possible solutions you'll find yourself faced with tons of advice, some of which is conflicting, and some of which doesn't make sense. Even finding a qualified specialist to work with your child can be a challenge when you aren't sure what kind of help your child really needs.
Long distance speech and language consultations can be done over the phone or via Zoom.
During your consultation I will help you work through a situation that is often both confusing and scary. While most speech or language deficits will require in-person therapy from a trained Speech Language Pathologist, I can help you begin to sift through your options with confidence.
During your long distance consultation, I will happily answer all your speech & language questions so that you can decide what type of help is right for your child. I will also help you to make sure you're working with a professional you can trust.
Long Distance Pragmatic Language Consultation
Seeing your child struggle to make and keep friends can be truly heartbreaking. Parents whose children don't have any friends often feel helpless and frustrated.
What a lot of people don't realize is that most children who are struggling socially are having a problem with something called pragmatic language. For nearly fifteen years, I have been helping children improve their pragmatic language skills as the creator and executive director of the Where I Can Be Me® social skills program.
When you schedule a phone or Zoom consultation, you'll have an opportunity to tell me about the difficulties your child has been experiencing. Whether you're concerned about a specific incident or an ongoing problem, odds are I've seen it before, and I know how to help.
You'll walk away from our consultation with some of my tried-and-true strategies for helping a child learn to make and keep friendships. And if you're considering joining a social skills program local to you, I'll make sure you know the signs of a good social skills program, and know how to steer clear of the ones that hurt more than they help.
If this sounds like something that could be beneficial, then my assistant, Melissa, will be happy to set up a time for us to speak. She can be reached at 914-488-5282.